Ganesh Marble Statue for Home
The Murti Wala is a manufacturer, supplier & exporter of Lord Ganesha Statue in with excellent marble quality, 100% hand carved, premium mirror polished, & Gold plated. Our Customer can order Lord Ganesh Statue Online by just giving a phone call or email confirmation. We are the most trusted & prominent supplier of Siddhi Vinayak Statue, Lal Bag Ka Raja, Dagdu Seth Statue, Marble Vinayak Idol with riddhi siddhi, marble vinayagar Vigraham, vinayagar statue for home & office & other God statues in Big Size & small as well which is available and customized in different sizes & different style at very affordable price. We have a very good & safe Courier channel who supply Marble Ganpati Statues in every town & city of India. We also do international shipping to the USA, UK, Canada, Indonesia, Thailand & in every country of the world.
      Our Idols are beautifully created in different poses & style which are known for the superb marble quality, Carving & vibrant colors. We do provide both domestic and international shipping at very nominal rates. Due to high demand we have a large scale production facility to fulfill our customers order. We Customize Marble God statues in various sizes & designs towards our clients' needs from 6 inches to 6ft. We had a divine collection of Hindu Deities in stock for sale. In case we don't have that product in stock then we take orders and create it on a prescribed time span. We also sell Ganesh Laxmi, Vishnu Laxmi Idols for Temples, Offices & Home.
White Marble Ganesha Statue for home
 People who want to attract happiness, peace, and prosperity in life should consider placing a statue of a pure white marble Ganesha at home. 
Brand – The Murti Wala
Size – 15 inches, 18 inches, 2 feet, 3 feet
Design – Carved & Polished
Material – Pure white Marble
Price – INR 45000 onwards
Place of origin – Jaipur
Shipping – Both Domestic & International
Goldplated Ganesh Marble Murti
Makrana Marble Ganesh Moorti
Marble Ganesh Idol for Home
Makrana Marble Ganesh Statue
White marble Ganpati Murti

Standing Ganesh Marble Statue
Black Stone Ganesha Statue
6 inches Ganesh Laxmi Saraswati Marble Murti for Home & Office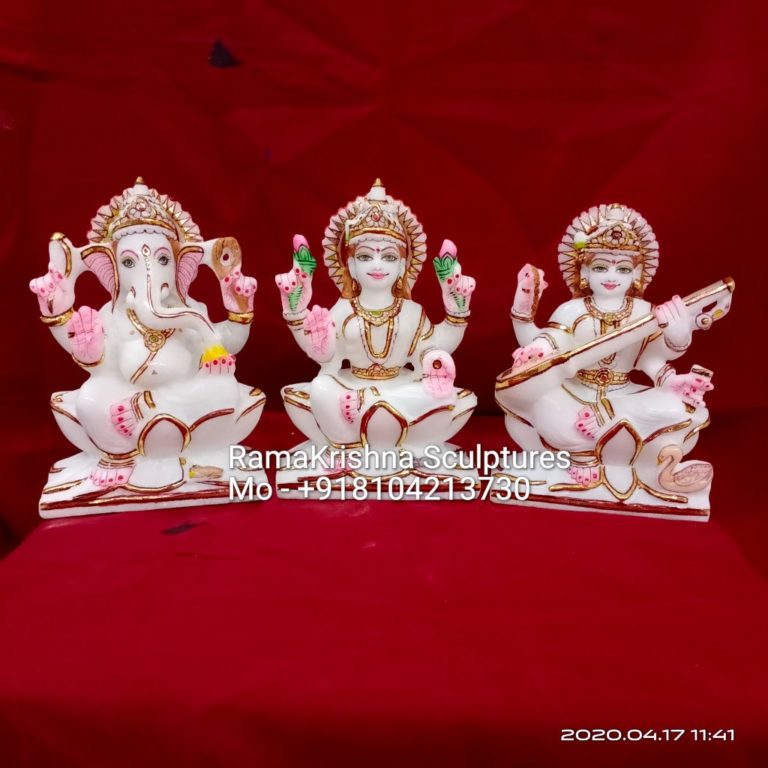 Brand    –  The Murti Wala
Size     –     6 inches & above
Design   –  Gold finished & Polished
Material – Makrana white Marble
Price  –      INR  24000 pair
Place of origin – Jaipur
Shipping   –   Pan India & Worldwide
Buy Ganesha Idols at affordable prices
Pure white Marble is always costly stone compared to other white marble or stones. But our mission is to deliver high quality marble statues at a pocket friendly prices, For which The Murti Wala uses the best grade fine grain marble for making top quality ganesha murtis.
Best Ganesh Marble Statue Manufacturer
The Murti Wala offers Marble Ganesh Ji, Laxmi & Saraswati Ji Statue in various sizes & designs. We are the manufacturer of all kinds of HINDU GOD Deities Vigraham in white & black marble. We have a large collection of statues starting from 6 inches to 6 feet. You can order statues from Pan India & worldwide. If you want to buy individual Idols of Lord Ganesha, Goddess Laxmi, & Goddess Saraswati Ji then you are most welcome. We do carving using best grade marbles and showcase the god in vibrant colors and Gold embossing with pleasing features in all Customize Size 1,2,3ft to 5 ft. We do several quality checks for maintaining the dignity of our organization. Each and every statue is customized as per clients' requirements. So we don't display the exact cost of every product on the website. Those who want to order or buy Ganesh marble murti can contact us via call, Whatsapp, email, or postal address.
Placing Ganesha Idol at Home
 People who desire self-growth should bring home a (bright red) vermilion-colored Ganesha Statue. This is considered auspicious according to Vastu. As per Vastu direction – Ganpati Bappa's idol shall be seated in the North East, North, or East direction and never in the South, South West or South-East part of the home or office area. We should put the Idol in such a way that the back of lord Ganesha faces the outside of the home.